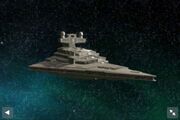 Capital ships
are the largest class of ships available to all factions. Typically requiring four or more population slots in battle. They require a Capital Shipyard to be built. They include such iconic ships as the Mon Calamari Cruiser and Imperial Star Destroyer.
List of Ships
Edit
Imperial Warships:
Edit
Imperial I-class Star Destroyer
Imperial II-class Star Destroyer
Interdictor-class Star Destroyer
Praetor Mark II-class Battlecruiser
Allegiance Battlecruiser
Secutor Star Destroyer
Lucrehulk battleship
Torpedo Sphere
New Republic Warships:
Edit
MC80 Home One-Type Star cruiser
MC80 Liberty-type Star Cruiser
Republic-class Destroyer
Empire of the Hand Warships
Edit
Ascendancy-class Star Destroyer
Intego Battlecruiser
Super Star Destroyers
Edit
Executor-class Star Dreadnought
Bellator-class Star Dreadnought
(This work in progress. Editors: please add the pages for any capital ships here. I'm just trying to create a general framework while others tackle unit pages and such.Jordanthejq12 (talk) 22:43, December 16, 2013 (UTC))
Ad blocker interference detected!
Wikia is a free-to-use site that makes money from advertising. We have a modified experience for viewers using ad blockers

Wikia is not accessible if you've made further modifications. Remove the custom ad blocker rule(s) and the page will load as expected.